New CD by Paul Van Ross "The Buck Stop Here" OUT NOW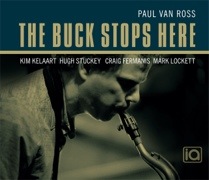 NEW CD OUT NOW "THE BUCK STOPS HERE".
Purchase your copy at the discography page….
http://paulvanross.com/release/the-buck-stops-here/
I'm extremely happy to announce the release of my new album "The Buck Stops here"
Featuring all original compositions and some of my favourite musicians.
Recorded Live at the Paris Cat Jazz Club, this album is full of energy and atmosphere.
"Hard, fast and exciting playing…with great ideas…that's what I like about Paul Van Ross and his music…check him out" – George Garzone.
Keep Friday March 1st free for the official launch at Paris Cat Jazz Club
Musicians:
Paul Van Ross – saxophones
Kim Kelaart – hammond B3 organ
Craig Fermanis – guitar
Hugh Stuckey – guitar
Mark Lockett – drums